Display your furoshiki in your home with these elegant handmade hanging poles. Handmade in Japan from fragrant hinoki (cypress) wood, they are attached to the top and bottom edges of the furoshiki, the weight of the bottom pole gently pulling the furoshiki flat.


Assembly is quick and easy (instructions included). The furoshiki is held in place by simple wooden batons and rubber loops which don't damage the furoshiki at all.

The set includes:

Tokyo Matcha Furoshiki
2 × poles, 2 × batons, 4 × rubber loops and 1 × cotton cord for hanging.

Hanging pole measurements:

Pole width: 570 mm (22"), diameter: 20mm (8").
Drop distance from the point of hanging to the top pole is approximately 370mm (14"). This can be shortened by simply tying the cord shorter.

Material:

Unfinished Japanese hinoki (cypress) wood.
53 × 53 cm (20.8" × 20.8") Furoshiki, 100% cotton (soft lightweight weave)
Handmade in Japan


Designer's words

"Arriving in Tokyo city in that magic time between night and day, our train meanders through a tetris like metropolis, we become enveloped in a world of blocks, but as we look more we begin to see the traces of times past. Windows appear to flicker on and off, as people come and go, the city that never sleeps welcomes us with its glow." — Hannah Waldron

About Furoshiki :

Furoshiki (風呂敷, fu-rosh-ki) is a type of traditional Japanese wrapping cloth. It can be used in multiple ways, for bundling or gift-wrapping all sorts of things. We think this particular lighter-weight furoshiki works well for more delicate wrapping and perfectly as a scarf, and it softens up the more you wear and wash it. One simple and beautiful piece of cloth and the list is endless. Tie it and see!


How to Use
Gallery
Shipping & Returns
Furoshiki are the original multi-use textile. The Japanese have been using them to wrap things since the 17th century but today they're worn as chic scarves, carried as lightweight bags and displayed as works of art.
Wear your furoshiki
Our contemporary designs give a modern edge to the traditional furoshiki, and look stunning as a scarf. Each design is printed by hand onto premium cotton giving a soft feel and elegant drape, then the edges are carefully hand rolled and sewn. Furoshiki scarf gallery
Turn it into a bag
You can easily convert your furoshiki into a simple shoulder bag with one of our handmade straps — ideal for lightweight travels, or in those unexpected moments when you need an extra bag.
Just thread the corners of the furoshiki through the metal buckles of the strap, pull to tighten and you're done. They don't damage the fabric so you can easily switch between using your furoshiki as a scarf or a bag. See all our bag sets here
Hang it in the home
Turn your furoshiki into a beautiful artwork by hanging it with our display pole.
The wooden construction sandwiches the furoshiki into poles at the top and bottom, gently pulling the furoshiki flat and creating a simple display for the furoshiki. Learn more about the display pole
Learn how to wrap
The Japanese have perfected the art of wrapping furoshiki over 400 years. You can use one of the many traditional techniques to elegantly wrap anything from books to bottles and make any gift extra special. See our wrapping guide
Why multi-use matters
We're reluctant to use the term "eco-friendly" as making any product consumes resources. But the great thing about furoshiki is that they can be used in so many ways; they spend less time in your closet, and more time in use.
That's not going to save the planet, but it's a better use of resources and helps you declutter your life a little bit too.
Handmade in Japan
We believe Japanese craftsmanship is second to none. That's why all our furoshiki are hand-printed and sewn in Japan by a family-owned business with over 50 years experience in furoshiki production. See our furoshiki being made here
By collaborating with international artists and designers, we aim to cross cultures and generations by creating beautiful, functional products that merge contemporary design with traditional Japanese craftsmanship. Learn more about the story behind Link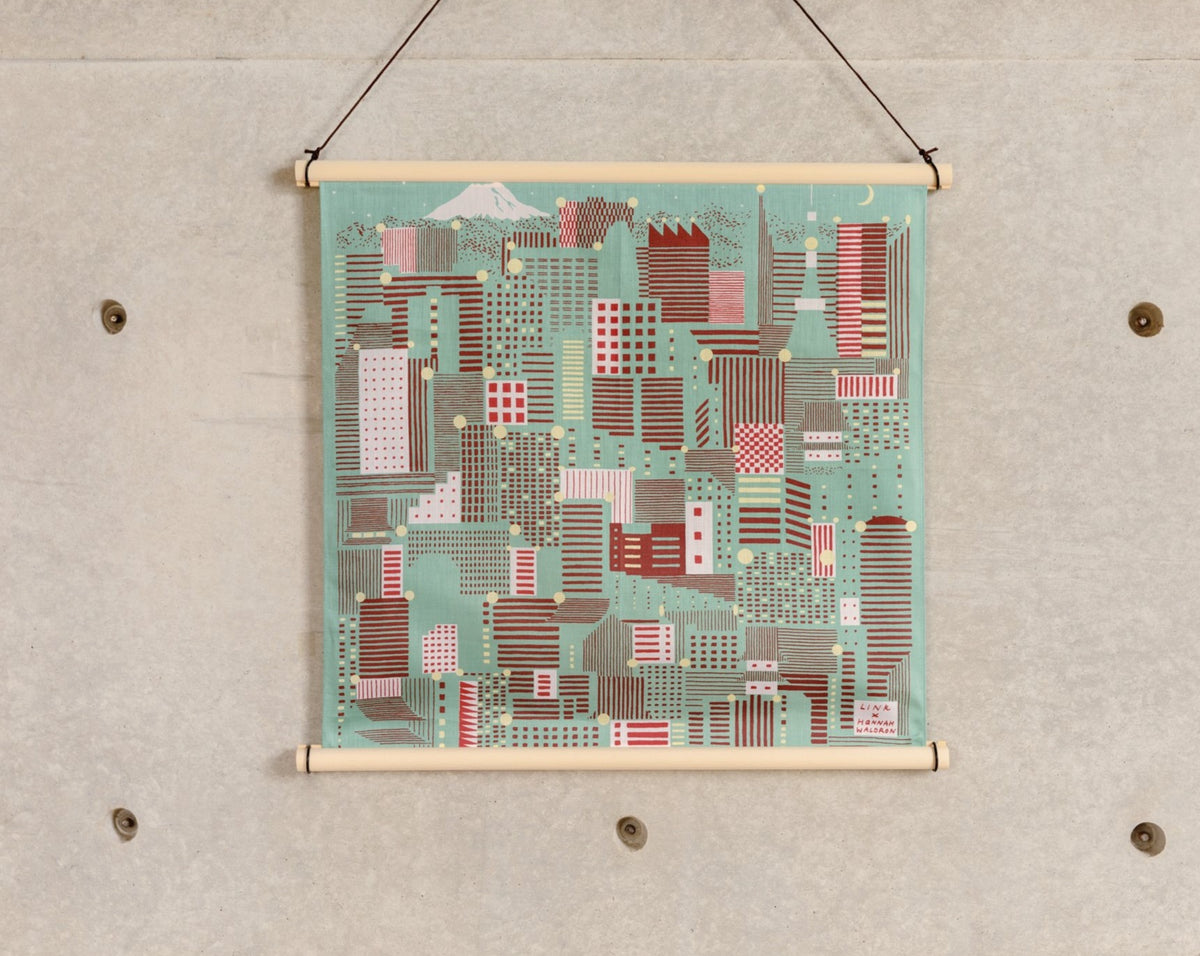 Details matter. We carefully hand wrap and ship all products from Japan to reach you looking beautiful, wherever you are in the world.
Standard international shipping
Packages are sent by airmail and take about 6–10 working days to arrive in most countries (it may take a little longer in the holiday season).
A note about import taxes
Each country operates its own rules on taxing imported goods. Occasionally packages are held at the customer's country until this duty is paid. In this case it's up to you to pay the fee, or the package will be sent back to us. However most shipments seem to arrive without any problems or extra cost. If you have any questions, please email us at info@linkcollective.com
Returns & Exchanges
You can return your product unused and in the same condition that you received it in for a full refund or exchange within 30 days of the purchase date. If 30 days have gone by since your purchase, unfortunately we can't offer you a refund or exchange.
Please contact us at info@linkcollective.com before sending your product.
Note: You are responsible for paying for return shipping costs. Return shipping costs are non-refundable.
Exchanges
We're happy to exchange unused products but you're responsible for the cost of returning your product to us. We will pay the shipping cost of sending the new product to you. Please email us before sending your product to confirm the availability of the product for which you would like to exchange.